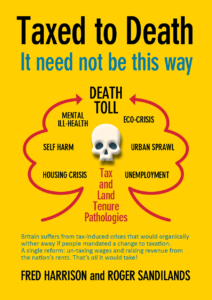 Are people killed being by misguided tax policies in 21st century Britain?
Explaining premature deaths by zone has been the subject of a lifetime of study by economist Fred Harrison www.sharetherents.org. For example, if you are a man living in Drumchapel you will die on average 17 years before men who live not far away in East Dunbartonshire.
Harrison's economic model lays responsibility for the loss of up to an average 20 years of life, depending on where you happen to live, squarely at the feet of Government.
The cocktail of avoidable ill-effects of wrong tax policies is endured at higher levels by people living in marginal locations for the simple reason that arbitrary taxes cannot be afforded there. As a result they suffer disproportionately such effects as unemployment, the housing crisis, urban sprawl and figure disproportionately in the current self harm and mental ill-health epidemics. Harrison argues that the combined stresses of arbitrary taxation foment the horrifying and otherwise inexplicable statistics confronting us in daily news bulletins.
Yet the answer is a simple one. In Taxed to Death Fred Harrison and SLRG's Professor Roger Sandilands explain the links and demonstrate how the benign and fair AGR tax reform would reverse each of these devastating trends and the annual death toll for which they are responsible.